PAGE IN ENGLISH | PÁGINA EM PORTUGUÊS

OMSP'S FOR NEWBORN BABY DECOR AND TUTORIAL

▸ WHAT IS OMSP:
OMSP comes from The Sims 2 and became more famous in The Sims 3 (to this day use in sims 3 thank God, lol). OMSP (acronym for One More Slot Please) is an object with several functions, among them the most popular is to fit an object or yes at any time! See example. The example photo is from the sims 3! LOOK HERE

▸ ABOUT:
I created the OMSP to help people who create posing poses with my babies decorating (at the end of the post will have the link to download). Unfortunately at the game our newborns can not do poses, we can definitely do nothing interesting like The Sims 3, and I had the idea to just create newborn babies for simbook people, simblr and simgram to really tell their story. I made 16 different sizes for you to be free and your ideas flow anyway. In my opinion, I loved it and the one who downloaded it also loved it! I hope they help you too.

▸ CONTAINS:
In the downloaded content you will find two folders, one of the blender and another with the packages with name and numbers that are 16. In the blender folder, you will find the separated omsp, the omsp all together, and the omsp with references, which are Baby crib, baby comfort, baby stroller and more ... will depend on your imagination.

●●●●FIRST YOU WILL NEED TO DOWNLOAD MY BABIES, WHICH CAN BE FOUND HERE●●●●

▸ CHARACTERISTICS OMSP:

● Category: Decor

● Two textures: Colorful and transparent

● Base omsp

@here

● Custom Thumbnail
▸ COMPLEMENTS:
- Baby crib [x]
- Baby stroller and baby comfort [x]

▸ TUTORIAL CREATING POSE AND USING THE GAME
PREVIEW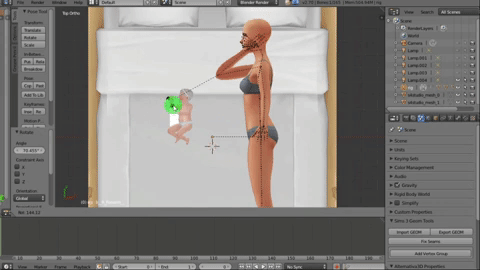 VIEW COMPLETE ON YOUTUBE

▸ THANKS AND T.O.U:

Thanks for all that helped.
Thank you for using!
Do not re-upload
●●●HEY, IF YOU USE MY CC, DO YOU MENTION ME TO BE ABLE TO SEE ME? THX.●●●



▸ DOWNLOADS:
► Link
▸SF | MF



Any problem please contact me.